LONDON, Jun 13, 2023 - (亞太商訊) - StrikeX is thrilled to announce the successful completion of an investment and strategic partnership with CMC Markets, an award-winning* FTSE 250 financial services provider. CMC Markets has acquired a 33% stake in StrikeX Technologies, with two of its senior executives being welcomed to the StrikeX board, bringing with them a wealth of expertise and experience. This is a significant milestone for both companies and the digital asset industry as a whole. By combining StrikeX's expertise in tokenisation and self-custody technologies with CMC Markets' extensive experience in financial services, both companies are now well-positioned to transform the way people and businesses invest in digital assets.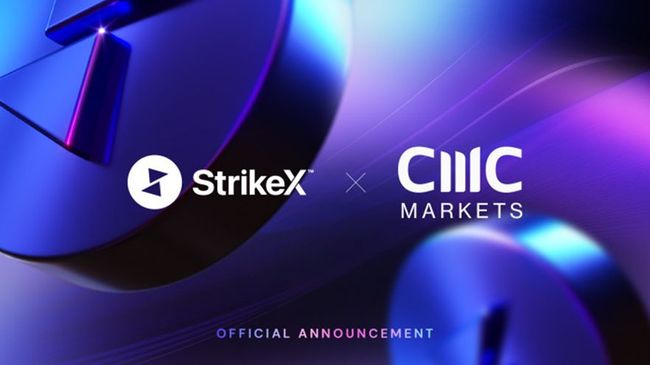 StrikeX & CMC Markets partnership
Joe Jowett, StrikeX CEO and Co-Founder, expressed his excitement for the deal and the potential it holds, saying:
"Our partnership with CMC Markets will bolster our position as early frontrunners in this dynamic and fast-moving industry, whilst validating our long-term vision and strategy. We strive to pioneer the delivery of traditional financial instruments, such as equities, commodities and bonds to the blockchain, whilst guaranteeing security, compliance, and ease of access via intuitive, secure, and user-friendly products. We are excited by the opportunity this partnership brings and we look forward to sharing more updates as we continue to grow and innovate."
Lord Cruddas, CMC's founder and CEO, added:
"This is a major strategic investment in the growing Web 3.0 technology space of which StrikeX Technologies gives us access to the very best technology and advancements. StrikeX is a brilliant, young, dynamic company, with a very talented team that has its finger on the pulse of fast-moving technologies. We are all very excited about working together as we continue to diversify our business with the latest technology, products and wallet settlement."
* No1 Platform Technology Forex Brokers 2022
* Best White Label Provider B2B Global Forex Awards 2023
* No1 Web platform Forex Broker Awards 2023
CMC Markets Plc ("CMC"), whose shares are listed on the London Stock Exchange under the ticker CMCX (LEI: 213800VB75KAZBFH5U07), was established in 1989 and is now one of the world's leading online financial trading businesses. The Group serves retail and institutional clients through regulated offices and branches in 12 countries, with a significant presence in the UK, Australia, Germany, and Singapore. CMC offers an award-winning, online, and mobile trading platform, enabling clients to trade up to 10,000 financial instruments across shares, indices, foreign currencies, commodities, and treasuries through contracts for difference ("CFDs"), financial spread bets (in the UK and Ireland only) and, in Australia, access stockbroking services. More information is available at
https://www.cmcmarkets.com/group/
.
StrikeX Technologies was founded in early 2021 and is developing a suite of user-centric and innovative blockchain solutions, from web3-enabled software to pioneering advancements in tokenisation technology. Learn more about StrikeX and its subsidiaries at
https://strikex.com
and
https://tradestrike.io
.
Contact Information
Joe Jowett
CEO & Co-Founder
[email protected]
Copyright 2023 亞太商訊. All rights reserved. www.acnnewswire.com