West Palm Beach, FL, Apr 4, 2023 - (亞太商訊) - U.S. Polo Assn., the official brand of the United States Polo Association (USPA), has launched its iconic, sport-inspired Spring-Summer Collection for 2023. The brand's global photo shoot took place in historic Santa Barbara, Calif., known for its spectacular weather, beautiful vineyards, romantic Mediterranean-inspired backdrops and dramatic central California sunsets.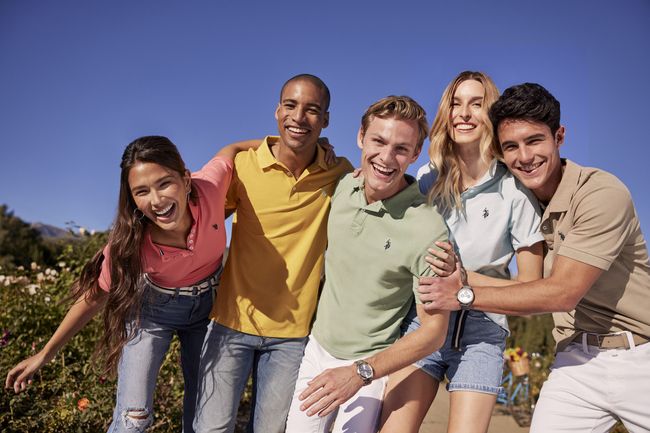 U.S. Polo Assn.'s Spring-Summer 2023 Collection represents all things fresh and vibrant in the upcoming seasons. In this beautiful Santa Barbara setting, sun-washed pastels are layered with textured linens and shot beside the golden glow of Pacific Coast sunshine. Lush rose gardens, winding pathways and scenic vistas showcase the soft silhouettes of U.S. Polo Assn.'s seasonal dresses topped with soft sweaters. Tonal polo shirts are perfectly paired with classic denim that will never go out of style, along with accessories that shine, such as stylish bags and reversible totes, fashionable footwear, and on-trend eyewear, to complete an entire look that's warm-weather worthy.
"For the U.S. Polo Assn. Spring-Summer 2023 Collection, our Design Team was most excited about the texture of the fabrics of the season, especially linen, and linen-cotton blends, because these natural fabrics keep us cool, comfortable and looking great in these warm weather temperatures," said Brian Kaminer, SVP of Brand and Product for U.S. Polo Assn. "Stunning colors, from pastels to brights, are always a key element of our brand's classic, American style, fitting in perfectly with this season's trends to give that cool, coastal California vibe."
U.S. Polo Assn. is known for its sport-inspired, classic American style and each season the brand takes it to a new level with unique colors, styles, and fabrics. The Spring-Summer 2023 Collection is innovative in its colorful and modern assortments, including global apparel with sustainable aspects.
"The U.S. Polo Assn. Design Team was able to capture this iconic Spring-Summer 2023 Collection in Santa Barbara, inspired by everything that makes us think of coastal California; not to mention the location is home to some of the sport's most historic and prestigious polo clubs," said J. Michael Prince, President and CEO of USPA Global Licensing, which manages the global, multi-billion-dollar U.S. Polo Assn. brand. "Every season, we focus on evolving our core products as well as innovating new ones, while always staying true to our authentic connection to the sport of polo."
About U.S. Polo Assn. and USPA Global Licensing Inc. (USPAGL)
U.S. Polo Assn. is the official brand of the United States Polo Association (USPA), the non-profit governing body for the sport of polo in the United States and one of the oldest sports governing bodies, having been founded in 1890. With a multi-billion-dollar global footprint and worldwide distribution through some 1,100 U.S. Polo Assn. retail stores and thousands of department stores as well as sporting goods channels, independent retailers and e-commerce, U.S. Polo Assn. offers apparel for men, women, and children, as well as accessories and footwear in more than 190 countries worldwide. U.S. Polo Assn. was named as one of the top five sports licensors in 2022, according to License Global. Visit uspoloassnglobal.com and follow @uspoloassn.
USPA Global Licensing Inc. (USPAGL) is the for-profit subsidiary of the USPA and its exclusive worldwide licensor. USPAGL manages the global, multi-billion-dollar U.S. Polo Assn. brand and is the steward of the USPA's intellectual properties, providing the sport with a long-term source of revenue. Through its subsidiary, Global Polo Entertainment (GPE), USPAGL also manages Global Polo TV, which provides polo, sport and lifestyle content. In addition, USPAGL partners with ESPN and beIN Sports globally to share the sport of polo broadcasts on television and on-demand to millions of viewers around the world. A historic, multi-year, global arrangement has been signed by USPAGL and ESPN for the world's leading sports content provider to air seven of the top final polo games in the U.S., allowing millions of sports fans and consumers to enjoy the sport across ESPN's broadcast and streaming platforms. For more sport content, visit globalpolo.com.
Contact Information
Stacey Kovalsky
Senior Director, Global Communications
[email protected]
+001.561.790.8036
Shannon Stilson
VP, Sports Marketing & Media
[email protected]
+001.561.227.6994
SOURCE: USPA Global Licensing Inc.
Copyright 2023 亞太商訊. All rights reserved. www.acnnewswire.com